Un-sportsmanlike conduct
Not that the Winnipeg Jets had any chance, in my opinion, but they got their just comeuppance by being beaten four games straight in the Stanley Cup playoffs by the Montreal Canadiens. They didn't deserve to win anything after that hit on Jake Evans by Mark Scheifele. All things considered in a high-speed part of a high-speed game, if you're too damn slow to determine that there's nothing you can do at that point except hit a guy when he has his head down and has already scored a goal, then you're not NHL-calibre material, and you need to go back to the beer-hockey league from which you came.
Apparently the Pfizer COVID-19 vaccine is "popular"!
In a recent Global News broadcast, the teleprompter reader excitedly announced that, since the Pfizer COVID-19 has been so "popular" in this country, Pfizer, out of the goodness of their hearts, will be giving us wonderful, deserving Canadians three million more doses. (OK, the reader didn't say anything about "out of the goodness of their hearts", but that was the whole tone of the piece.) My chin hit the floor, and I may have drooled a little. What an asinine thing to say! First of all, it's "popular" because people are desperate to be vaccinated and get on with their lives, not because it tastes great nine out of ten times in taste tests! And since they're selling us (not giving us for free) so many more vaccines than the other approved manufacturers, of course their product is relatively more "popular"! My god. Don't these people have brains?!
Tailgating a cop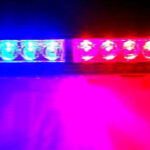 So I was driving along a freeway in the Greater Vancouver area a few days ago. As is pretty typical in this part of the world, our freeways are, for the most part, only two lanes wide. I suppose the government wasn't too forward looking back in the 1940s, but neither are they today. One of the many issues exacerbated by two-lane freeways is the congestion that happens at on-ramps. In this case, as I approached an on-ramp, there actually wasn't any congestion caused by cars moving out of the so-called slow lane into the passing lane to allow cars entering the freeway to do so unimpeded.
As I approached the on-ramp I observed three vehicles on the on-ramp entering the freeway. The middle one was a dirty, blue pick-up truck with a canopy. I maintained my speed — which, I admit, was slightly over the speed limit, but not a speed that was out of line with other traffic on freeways — as I intended to pass the slower vehicles entering the freeway. No problem, right? Except, as happens so often, the pick-up truck decides his wishes are far more important (or he didn't bother to check his side-view mirror), and he (I assume it was a he, for reasons that will become obvious) pulled into the passing lane with little or no obvious attempt to accelerate past the vehicle that had been in front of him on the on-ramp.
I immediately disengaged the cruise control, and allowed myself to coast up behind the pick-up truck. It is not my practice to overreact to the idiotic behaviour of other drivers, so I did not slam on the brakes and immediately establish a two-second following distance behind an asshole who had impeded my progress on a freeway. As my speed bled off, I guess "he" (the driver of the pick-up truck) didn't like my following distance. Instead of accelerating as he should have, he flicked on his red and blue police lights. OK, so instead of driving like a reasonable person and not impeding the flow of traffic on a freeway, you're going to fucking turn on your red-and-blues and show me what a big dick you have, and how you own me. Congratulations, you win!
I again did not slam on the brakes; I just continued to let my speed bleed off until I had established the aforementioned two-second following distance, and we both carried on. I wasn't going to start flashing my headlights at the moron.
I suppose I'm lucky I didn't get pulled over and ticketed for following too closely or for speeding, but I have encountered this kind of asshole behaviour by cops in unmarked vehicles before. It just reinforces my view that if you're a cop, you can do whatever the hell you want, and if you're not, well … you can't. One rule for the ruled, and no rules for the rulers.